FRSA WHISTLEBLOWER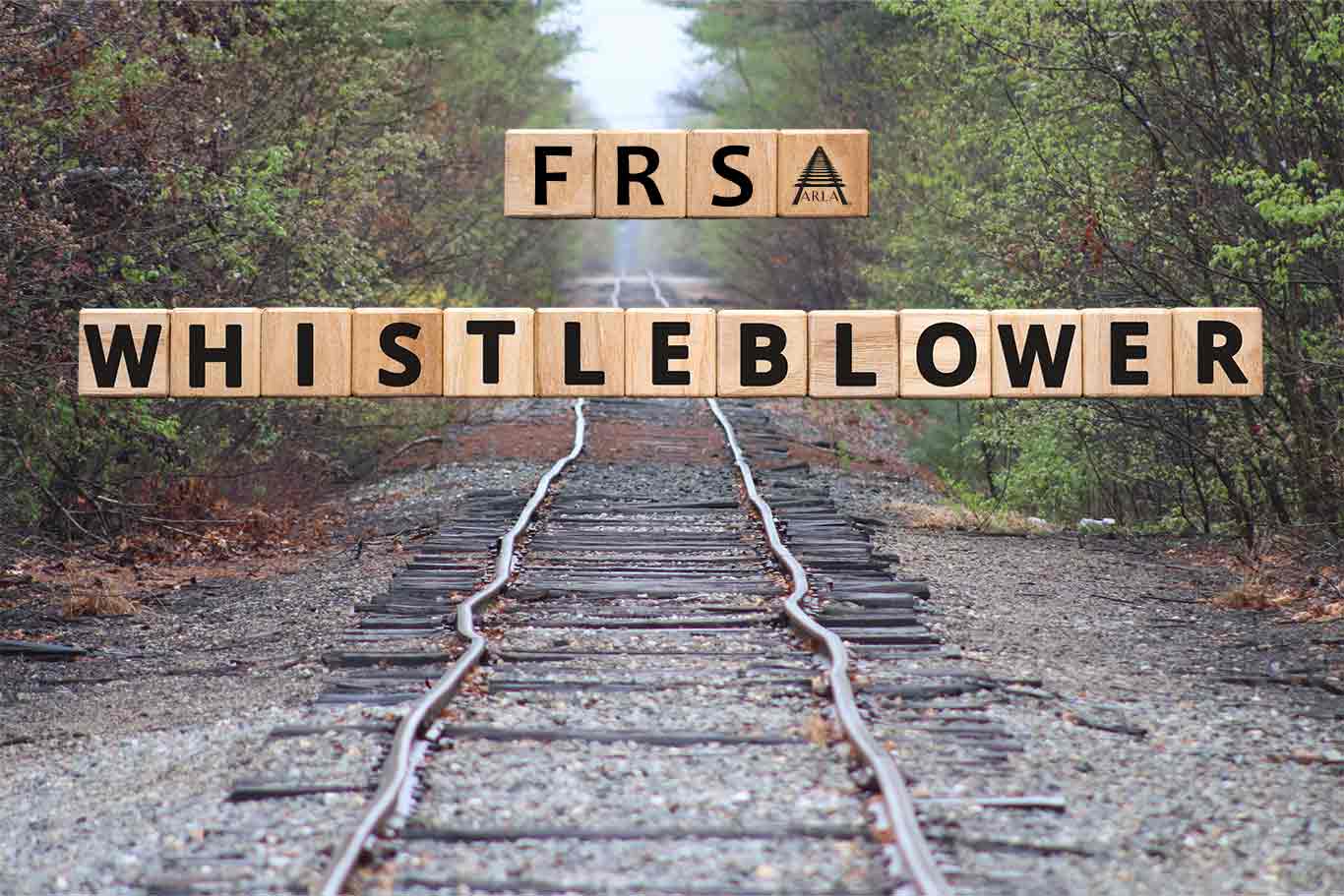 What does "whistleblower" mean?

A whistleblower in the railroad industry is an employee who voices their right to safe work conditions and reports hazardous conditions to hold their railroad employer to its duty to provide a safe workplace.  Federal law prohibits retaliation when an employee "blows the whistle" on safety.
What are "protected activities" under the FRSA?

These are the protected activities that fall under the protection of whistleblower law:

Injuries – notifying the railroad of your own work-related injury or a co-worker's work injury
Safety concerns – reporting hazardous safety or security condition; refusing to violate federal law relating to rail safety; refusing to use or reporting the use of unsafe railroad equipment, tracks or structures.
Medical treatment – work-related injury, the railroad can not deny, delay or interfere with medical treatment; for a work related medical condition, the railroad cannot discipline an employee for following the treating doctor's orders or treatment plan.
Fraud or waste of public funds – providing information regarding the fraud, waste or abuse of government funds connected to rail safety or security.
What are the remedies under the whistleblower law?

Under the whistleblower statute, there are different remedies available for the employee when the railroad violates the whistleblower law. The FRSA whistleblower law has the power to force the railroad to give you a "make-whole remedy" which makes the railroad potentially responsible to do the following:

Reinstate you with all your seniority rights;
Pay your back wages with interest;
Pay all your economic losses;
Pay emotional distress damages;
Pay attorney's fees and costs'
Pay front pay if the Court finds that it is not in your best interest to return to your former position; and
Pay punitive damages up to $250,000.
What is the timeframe for filing a whistleblower claim with OSHA?

Under the whistleblower statute, a railroad worker only has 180 days from the adverse action of the railroad to file an administrative claim with OSHA.

If your railroad sends you a letter charging you with a rule violation after you've had a personal injury, or reported a safety violation, or failed to return to work because your doctor is telling you that you need to be off, the adverse action is the discipline or charge letter, and that is when your time starts to "toll." Toll means that the clock is ticking and you only have 180 days (6 months) to file an administrative claim with OSHA. If you are then terminated after the investigation into your "charge" by the railroad, this constitutes another adverse action and your time begins to toll from the date of the termination letter. Again, once that time begins to run, you only have 180 days from that moment in order to bring a claim. It's important to file your administrative claim with OSHA as soon as possible. It is even more important to speak with a rail labor attorney who understands the whistleblower laws and can help you file your claim.
Am I protected from retaliation?

All railroad workers are protected by the Federal Railroad Safety Act (FRSA) which was enacted to promote safety in all areas of railroad operations and to ensure that railroad employees engaging in certain protected activities under the Act could do so without the fear or threat of discrimination or retaliation from their railroad employer.
Do I need an attorney that specializes in railroad whistleblower laws?

Yes, you should contact an attorney if you:

Reported a safety issue or personal injury and was given a letter of reprimand in your file,
Were told not to report the personal injury,
Are being charged with rule violations repeatedly to pad your file,
Experience harassment from your employer or others after having a personal injury,
Are being told you cannot take a return-to-work physical after your doctor has released you to return to full duty;
Are being threatened with a charge of absenteeism if you don't return to work when your doctor has not released you to full duty;
You were terminated after reporting a safety issue, or
You were not allowed to bid for certain jobs or demoted after reporting a safety issue or unsafe working condition.
What is the process for filing a whistleblower claim?

For a whistleblower claim under the Federal Rail Safety Act (FRSA), you have 180 days from the time of the adverse action to bring an administrative claim with OSHA, the Occupational Safety and Health Administration.